Greenfield of Salisbury was opened by Mr Ken Greenfield in 1960 on the site of the Salisbury branch of S R Jeffries, a sports business based in Guildford. The property was previously owned by A Chamberlain and Sons Gunmakers from 1885 to 1940.
Mr Ken Greenfield previously owned B Halliday Gunmakers, Cannon street London which he had taken over from his father on his death in 1957. He had made the decision to move the business to a more provincial location due to difficult post war trading conditions in London. On relocating to Salisbury Mr Greenfield changed the company name to 'Greenfield of Salisbury Limited'.
01
One of the largest selection of guns in the UK
02
Traditional Gunsmith's workshop on site
03
Gunfitting and alterations carried out in store
04
Quality country clothing and accessories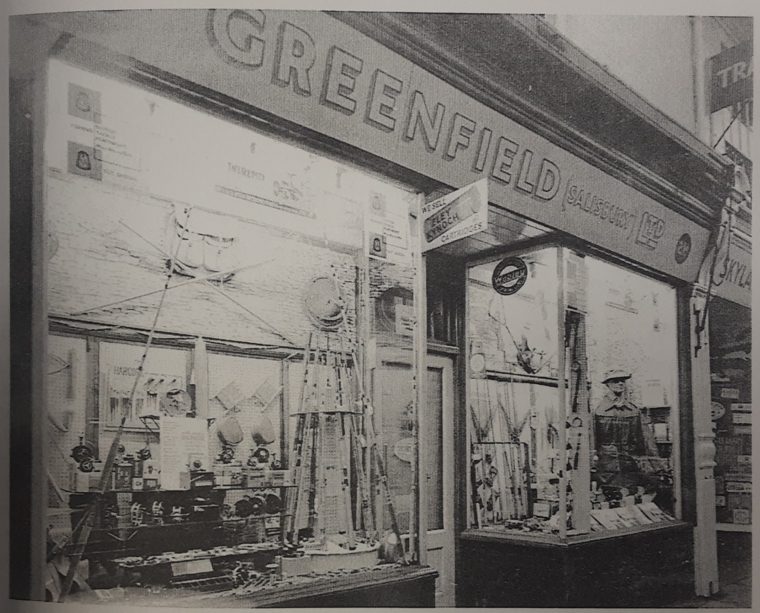 In 1970 the business expanded into the adjacent property 21 Milford street as well as building an extension to the rear.
The success of the business resulted in Mr Greenfield purchasing R Blanton Gunmakers in Ringwood the following year, this branch of Greenfield of Salisbury was only open until October 1995 when it was sold as a going concern.
In July 1997 Greenfield of Salisbury was purchased by Alan Pike who had started working in the shop as a Saturday boy in 1971 and joined the team full time in 1972 working as a gunsmith and in sales. Upon purchasing the business Alan changed the name to 'Greenfields Gunmakers Limited'.
In 2004, the building underwent a stunning redevelopment, featuring a new shopfront and sash windows that restored its traditional charm, a delightful departure from its previous 1970s style.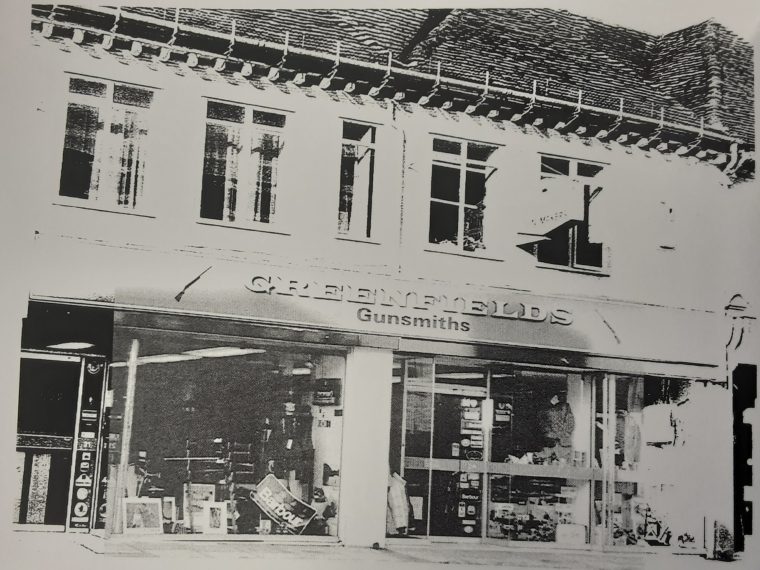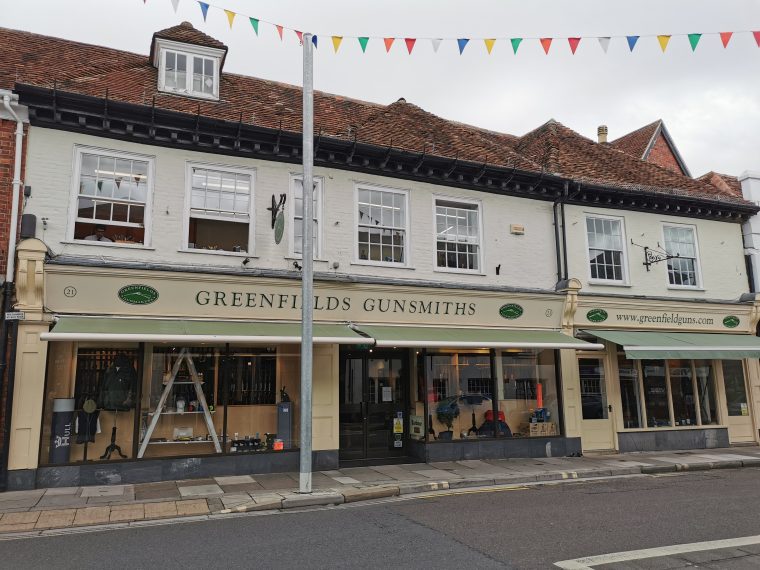 In 2017, Alan Pike acquired adjacent property 21B, previously a nightclub, and embarked on extensive renovations. Additional extensions to the rear of the building facilitated ample storage space. In April 2021, meticulous refurbishment of both new and old properties culminated in a spacious, light, and airy shop floor, offering customers a delightful shopping experience. Our expansion opened doors to an even wider range of products, ensuring there's something for everyone. The remarkable redevelopment unified the building under one roof, reminiscent of its medieval bowl hall origins, blending history and modernity seamlessly.
At Greenfield Gunmakers, our dedicated team is committed to delivering exceptional service to every customer, whether seasoned or new to shooting. We take pride in guiding informed purchases, whether it's air rifle pellets, shooting coats, or crafting bespoke shotguns from inception to completion. Your shooting journey is our passion, and we're here to ensure it's filled with expertise, care, and satisfaction.
Meet
Gabriella

Assistant Manager
Gabriella keeps everyone in check.
When not in the shop she is a busy mum that enjoys baking with her little girl.
Alan is mostly seen altering gun stocks at his work bench.
When not in the shop he can be found tinkering with one of his Landrovers.
Matt over sees the day to day running of the shop.
When not in the shop he can be found deer stalking or in a fire engine as a retained fire fighter.
Meet
Jonathan

The Gunsmith
Jonathan can be found at his workbench repairing and servicing guns.
When away from work he spends time adding to his various collections of gadgets.
Rob is our woodwork man.
When he isn't at work he can be found dusting clays at a registered clay competition locally.
Meet
Corrine

Sales Assistant
Corrine is always on hand to serve customers with a smile.
When not at work she enjoys going for long walks and spending time with her beautiful grandchildren.
Meet
Reuben

Sales Assistant
Reuben is happy to serve customers in the shop as well as helping out with repairs in the workshop.
When not at work he is at home on the farm tinkering with some sort of machinery.